Selfie Sticks
Do you know how much easier a selfie stick can make your life? A lot. Swissten is a specialist in simplifying life and finding solutions to difficult situations. That's why we offer selfie sticks that extend your arm by up to 97 cm, allowing you to take only the best quality pictures with backgrounds that you simply can't take from your hand.
Do you know what other advantage selfie sticks have? You won't have to curiously eyeball other tourists when you visit a historical landmark or other tourist destination in order to find a trustworthy face to lend your phone to for a few seconds to take your pictures with the background you envision.
Knowing that each customer is different, someone prefers everything wireless, others seek the security of a cable, we have prepared selfie sticks that connect to your smartphone using both Bluetooth and a cable. Whether you choose a Swissten selfie stick with a 3.5 mm jack or a selfie stick with a wireless remote control, you can always be sure that you choose only the best quality device that will make your phone feel like a breeze.
In addition to selfie sticks, we also offer other car and bike phone holders to keep your phone safe during all your activities. Are you planning to mount your Apple iPhone to a selfie stick and are worried about the screen shattering if you drop it? Get him a quality protective tempered glass and you will be at ease.
How to choose a selfie stick?
When choosing a selfie stick, focus on a few important parameters. These include the shortest and longest length of the stick, the width of the phone or camera, the type of connection of the selfie stick to the phone (wired, wireless), the way of controlling the selfie stick (remote control, button on the stick), and the material.
#ShowMore#
Selfies taken handheld will always have one flaw. That is your large head and only a minimal slice of the background. That' s a shame. Anyone who visits an interesting landmark or travels into the countryside wants to see as much of where they are as possible. You can't even take a picture of your whole figure from your hand. That' s what selfie sticks are for, to extend your arm.
What is a selfie stick?
You can't take the perfect selfie without a selfie stick. That's a fact. The so-called "selfie stick" has become a hit of modern times and it is not only social networks that are filled with them. You can take selfie photos just from your hand, but you will soon find that your hand is not long enough to be able to get the background in the photo. That's when you realize you need a selfie stick.
A selfie stick is used to take a selfie, which is a photographic self-portrait that should ideally have your whole body in it and preferably a large chunk of the background, which is the very reason you are taking the selfie. Selfie sticks are usually telescopic mobile phone holders made of plastic or metal, topped with a holder for your phone or camera. They can also be equipped with a tripod thread. You can easily place the selfie stick with a tripod wherever you need it and take pictures from a longer distance.
Parameters important for choosing a selfie stick
It's certainly not true that the best selfie sticks are the longest. Selfie sticks also need to be transported. When folded, they should be no more than about 30 cm long. A selfie stick with an extension of around 1 m will be ideal for regular selfie taking. However, you will also come across selfie sticks that allow full extension up to 2 metres or more.
The main requirement for using a selfie stick successfully is that it can accommodate your phone, camera or other device you want to take selfies with. Always check the maximum span of the holder before buying. Make sure it is larger than the width of your mobile phone. You may also need more space because of the ability to hold your phone in the case in the selfie stick. Also beware that in some cases the width of the phone may be given, in others the diagonal (which is often in inches).
Camera shutter release control
When choosing a selfie stick, it also plays a role whether the camera shutter is controlled remotely or if the button is directly on the stick. You'll find remote control on selfie sticks that connect wirelessly to your phone via Bluetooth. A selfie stick with Bluetooth is an interesting alternative to sticks that connect to the phone with a 3.5 mm jack cable. These have a trigger on the handle.
Our tip: Does your phone have a 3.5 mm headphone jack? Then use a Lightning/jack 3.5mm or USB-C/jack 3.5mm adapter.
Wireless selfie sticks with Bluetooth need charging. Within range of the mains you can easily charge them with the included microUSB cable. If you're outdoors, however, it's a good idea to bring along a powerful power bank to charge your selfie stick. Count on the fact that you can take hundreds of photos on a single charge. However, if the battery in the selfie stick runs out, you'll still be able to use it. The remote control just won't work, and you'll need a timer to start the camera.
Most cell phone selfie sticks are made of a combination of materials. The most common are cheap plastic, durable stainless steel or lightweight aluminium. To prevent the selfie stick from slipping out of your hand, a rubberized handle is practical. This can also be made of foam or plastic.
Practical features of selfie sticks
The mobile phone selfie stick can also be equipped with a tripod. You can place the selfie stick with tripod anywhere on a solid surface and easily take photos from a longer distance using the self-timer or remote control.
If you are a fan of extreme sports and are looking for the best selfie stick for your action camera, go for one that is equipped with stabilization. This ensures that your video won't shake when shooting. Some models also include an attachment for action cameras including GoPro.
You can easily attach a phone, action camera or tablet of any width to a selfie stick with a camera thread.
The selfie stick with Bluetooth is one of the classics of wireless selfie sticks. Equipped with a remote control, it allows you to take really high-quality pictures even from a long distance.
Bestsellers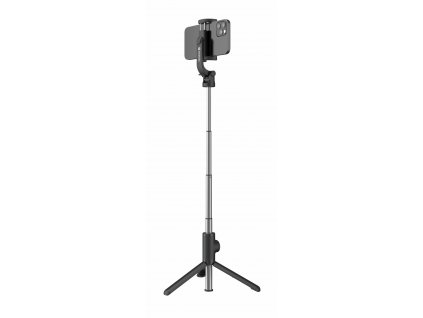 32000400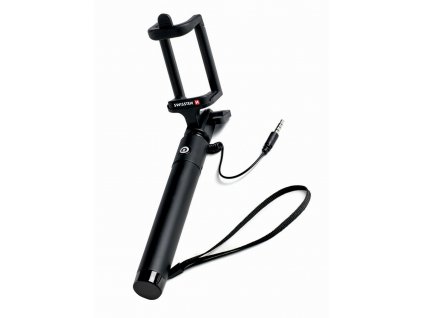 32000200
32000300